There is no necessity for admission expense or an annual fee. It is O.K. only in communication charges. Since event connection, such as 1 time of a touring per month, is performed by Mailing DM, I have kept 3,000 yen as communication charges.
J-ROAD OPEN CLUB has been a club aiming at profit since the 1991 inauguration.
Admission is under receptionist at any time. If it is interesting, saying "J-ROAD OPEN CLUB?" and whether "TURING?", please access freely.
Of course, after experience participation is carried out, you may decide formal admission to be a touring.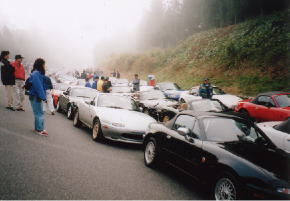 Club name

J-ROAD OPEN CLUB
Establishment date

January 15, 1991
representative

KOJI MAEAD
Contact address

11-22, Higashida-cho, Kadoma-shi, Osaka

Zip-code 571-0034 Japan
HP address

www.jroadopenclub.com
Mail address

center@jroadopenclub.com
Membership

63 persons

Fee

Nothing (year of 3,000 yen as communication charges) Sticker

onerous