becomes a sequence and various ROADSTER runs is a magnificent view. Probably it participates in J-ROADOPEN CLUB and could feel that it was good actually, while talking with the friend in the middle of the touring. Furthermore, since he is enjoyed for an overnight-stay travel at Golden Week and sweet-potato digging is enjoyed with the member also in a camp and autumn in summer, participation with a family is also a large welcome.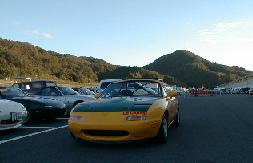 A race participation-in-the-war person appears out of a club member. TI circuit is made into the main stage. From 1994 to participation in the war It became formal activity from 1995 years, and has left good results.
Higher rank winning a prize is achieved in 2001.
Although it thinks that the more familiar one also already comes, if Mr. N's brave figure is seen in a circuit, please aid by all means.
According to technical consultations, such as exchange of the circumference of a leg, or a muffler, and re-covering of the soft top, work is also actually done. Furthermore, the help of various problem solutions is also carried out. And various information, data, and maintenance data are offered if needed for a member.
Pure and external part supply is also performed. Please utilize in the case of repair and an automobile inspection.
Although activity is continued centering on the roadster, the most important point thinks relation of members.
Please participate together with people, such as a friend, a sweetheart, and husband and wife. It is a large welcome